.
According to EO Cigars website, the Mi Barrio cigars are a limited edition seasonally released cigar available four times a year. The boxes feature original artwork by Edin Gutierrez. "El Puro" is the first of four releases and "pays homage to Pepin Garcia and Orestes Espinosa Sr., Erik Espinosa's father, who has been an avid cigar enthusiast for most of his life." The wrapper is Nicaraguan Habano and the filler and binder is from the Esteli and Jalapa regions of Nicaragua. The website further states that the cigars will all measure the same unique size and ring gauge but comprise different blends of tobacco. However, after a quick look around the internet, I found the Mi Barrio "El Acere" listed in at least three different sizes, which is different from the "El Puro" which is 7.5 inches by 52 ring gauge. Obviously, the manufacturer had a change of heart. Anyways...
.
The "El Puro" version was given to me by my sponsor Silo Cigars. It is a hefty double corona with a mottled appearance, slightly oily, with a soft suede-like texture. The cigar was rolled well with a neat three seam cap and no large veins present. The cigar gave off a barnyard aroma along with some peppery notes.
.
After clipping the cigar, the draw was free with some resistance. The initial flavors were nice and creamy, almost buttery, with nice sweetness and hints of wood and vanilla. There was also a touch of pepper on the finish but overall the cigar was smooth and showed a nice "soft" mouthfeel. The finish was also clean and toasty. The cigar was medium in body and towards the end, approaches a fuller, more syrupy consistency with a longer caramel and cedary finish. No notes of bitterness was detected.
.
Overall, the cigar was a pleasure to smoke. The draw was perfect and effortless and produced a nice thick volume of smoke. My only complaints was the wavy burn line and the difficult to remove cigar band. The ash formed was gray and black in color, compact, but "soft" looking. If you or anybody you know is a cigar smoking art collector, this would make a great gift.
.
The cigar retails for $12.00 a stick at Silo Cigars. Call 1-865-675-7456 for prices and availability.
.
.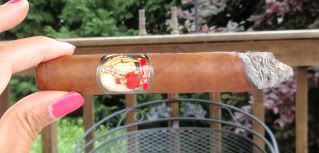 .