.
This review is sponsored by Silo Cigars.
.
The La Flor Dominicana L-400 Cabinet Oscuro is a stocky 54 ring gauge by 5.75 inch Toro-sized stick wrapped in an oily Ecuadorian Sumatra seed wrapper. The cigar is rustic looking with a few coarse veins and a blotchy appearance. This Dominican made cigar also contains a Dominican filler and binder.
.
The cigar has a nice draw but burns unevenly. The first puff immediately shows that this is a full-flavored cigar. It starts off earthy with strong dark roasted coffee flavor which immediately settles into a sharp woody taste with a pinch of pepper on the finish. The pepper was a little irritating to my throat, but nothing an ice cold beer couldn't quench. The second half of the cigar was one-dimensional with the body of the smoke being primarily cedary and leathery in flavor. The pepper notes remain constant throughout. No bitterness was detected.
.
The ash formed by the cigar was flakey and gray in color. It held on until I was ready to tap it off at the one inch point. The erratic burn line caused me to touch up the cigar with my torch several times. (But that's just me.)
.
Overall, the La Flor Dominicana Cabinet Oscuro was not a bad cigar. I just don't think it's special enough to want me to buy it at $6.10 a pop. This cigar would probably appeal more to those that like their cigars big and spicy. If that's you, then you may want to give it try. La Flor Dominicana is known for their quality tobacco and full bodied cigars. You're sure to find more hits than misses with this brand.
.
.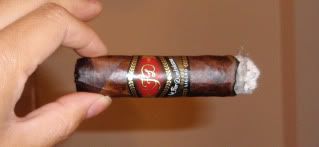 .