.
This review of the "Encore" robusto (52 ring gauge by 4.75 inches) size is sponsored by Silo Cigars, home to rare cigars, aged cigars, and hard to find boutique cigars.
.
The Carlos Torano Virtuoso was introduced in 2005. It was the first Torano cigar to be rolled with their own proprietary wrapper leaf, a Nicaraguan sun-grown tobacco. The binder is from Honduras and the filler is a tri-country combination of Nicaraguan, Honduran and Panamanian tobaccos. The Virtuoso is available in four vitolas ranging in ring gauge from 50 to 56.
.
My robusto had a rustic look to it, with lumps, a few veins, and a course feel due to it's toothy surface. The aroma had a promising smell of dark chocolate and earth, with some sweetness detected at the foot. After clipping the cigar, I was very pleased with the easy going draw. I noticed immediately a spicy tingle to my lips and tongue.
.
Lighting the cigar was easy. The resulting volume of smoke was thick and full. The flavor was immediately very rich and earthy with notes of dark roasted coffee. I didn't detect much sweetness and the finish was dry. The finish showed a touch of pepper but nothing overwhelming. The second third displayed some nuttiness, while the body of the smoke was more red wine/leathery in taste. The remainder of the smoke was consistent in flavor.
.
The burn line of the cigar was sharp but wavy. I did have to touch up the burn line at times. The ash was a gorgeous white color and very compact. It held on well past the one inch point when I chose to tap it off.
.
The Carlos Torano Virtuoso Encore retails for $6.20 a cigar at Silo Cigars. It is touted as the most full bodied cigar of the Carlos Torano line and I would have to agree with them. While not very complex, the cigar does smoke effortlessly and should please those who like their stogies heavy on the palate. This cigar would be perfect after a steak and cabernet dinner.
.
To order, call Silo Cigars at 1-865-675-7456. They have a very friendly and knowledgable staff and shipping is very expedient.
.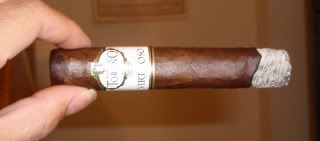 .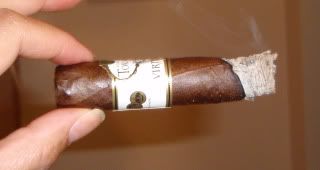 .