.
This review is sponsored by Duque Cigar Company, where finding the perfect cigars is their passion.
.
It seems as though Rocky Patel has gone secretive about his latest blends. All I know about the Rocky Patel Winter Collection cigar is that it is made in Nicaragua and has a Broadleaf Maduro wrapper. A Cigar Smoker's blog seems to have the low down as he lists the cigar blend to be a Pennsylvanian Broadleaf Maduro, Ecuadorian binder and Nicaraguan filler. Only 4000 boxes were released, compared to 11,000 for the Summer and Autumn Collections. It has been said that Rocky Patel considers the Winter Collection to be the best of the blends so far. Personally, I enjoyed the Summer blend and have not tried the Autumn yet. I think it really depends on individual preferences whether or not you will enjoy this cigar.
.
So far, I have not been disappointed with Rocky Patel's latest creations. The Rocky Patel Renaissance was close to being my favorite cigar of last year. When Duque Cigars sent me the Rocky Patel Winter Collection Corona, I was really excited to try it. The corona size is probably my favorite vitola of all, and this cigar measured a comfortable 44 ring gauge by 5.5 inches. The overall appearance of the cigar was quite attractive. The wrapper was oily and dark which contrasted nicely with the silver and blue cigar band. There were no heavy veins and the tooth on the wrapper was really fine. The aroma smelled as rich as it looked, with heavy doses of dark chocolate and rich earth.
.
Clipping the neat two-seam cap produced a free and loose draw. Once lit, the cigar produces a nice thick volume of flavorful smoke. Right off the bat, you can taste the earthy and spicy character of this cigar. Also, the cigar displayed a nice sweet creamy nuttiness which was accented by heavy doses of cayenne pepper. I would not recommend smoking this cigar first thing in the morning on an empty stomach! It is definitely a full bodied, full flavored smoke which can and will slap you wide awake.
.
The finish on the cigar was nice and long. You basically get consistent flavors of nuts, leather, and peppery heat all the way through. Sometimes I also tasted notes of Asian cinnamon. The cigar maintains a nice smoothness and balance and no traces of bitterness. My only complaint was the loose draw which resulted in the cigar getting a little warm in the second third from over-puffing to get adequate smoke volume. Looking down into the ash, I noticed a big gaping hole where a hunk of ligero should have been.
.
The burn qualities of the cigar was not perfect. The medium gray ash was a little flaky and the burn line was craggy. I had to touch it up a few times with my torch to keep it even.
.
The retail price for the coronas is $91.15 for a box of 20, which would make it less than $5 a cigar. I think this cigar is worth that price. I would have to smoke more of them though to see if the loose draw is the rule rather than the exception. Overall, I would say the Rocky Patel Winter Collection blend is a well done interpretation of what I would want to smoke on a cold day. However, whatever temperature it is when you smoke this cigar, I highly recommend that you have a cold beverage close by.
.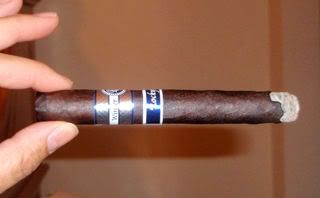 .
.