.
This review is sponsored by Silo Cigars, home to rare cigars, aged cigars, and hard to find boutique cigars.


.
Once again, my friend Kevin over at Silo Cigars has surprised me with a fantastic cigar that I had never heard of. This jumbo sized smoke is made by J. C. Newman Cigar Co., makers of Diamond Crown Maximus and Cuesta Rey cigars. It is called "El Baton" and it's a belicoso measuring 56 ring gauge by 6 and 1/4 inches long. Even though I prefer slimmer cigars, it's hard not to like this flavorful gem.
.
The cigar is a Nicaraguan puro with a wrapper that is 100% Corojo. When you think all Nicaraguan tobacco you think this is going to be one strong smoke, but in fact, it is more medium in strength and very smooth.
.
The construction of the cigar is top-notch. The seams are nice and tight and the cap looked neat with a cute pointy end. The veins were relatively small and the wrapper itself was a pretty dark reddish brown with small "splotches" all over. It has a slight lumpy appearance to it, but not what I would call "rustic". The cigar feels nicely packed but not too much that it would affect the draw performance.
.
The initial flavors start off spicy, leaving a nice tingle to the lips and tongue. You can taste the tangy and sweet Corojo flavor immediately along with nice notes of dark mocha. The finish is long and earthy with touches of oak wood and black pepper. After tapping off the light colored ash at the one inch point, I noticed that the cone of ligero was not as big as I expected. This is a good thing for those of you who like spicy flavor without the wallop. I smoked this baby in the early afternoon and was able to function just fine afterwards.
.
The cigar then transitions into a nice leathery taste with mocha and pepper still present. The finish develops some nuttiness, which is always a winner for me. The finish remains long and leathery with some notes of oak and pepper. Not once did this cigar turn harsh or bitter.
.
Overall, I really enjoyed this cigar. The burn line was not perfectly straight but it was certainly not annoying enough to take away from the enjoyment of the smoke. Priced at $5.50 a stick, I don't see how you could go wrong purchasing these and laying them down for some aging. The El Baton is also available in boxes of 40 for $196. Silo Cigars even offers packages of five for $26.50. So far, this is probably the best deal of the year.
.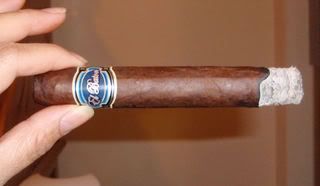 .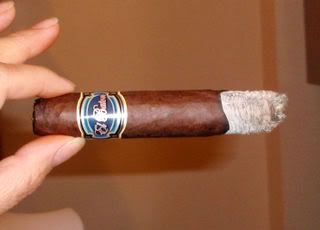 .