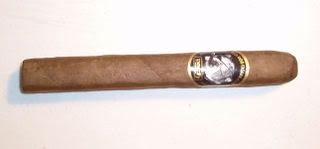 .
This review is sponsored by Duque Cigars.
.
Bad Dog Cigars is the creation of two friends and business partners, Nicholas Scarcella and Andreas Demetriou. Their advertising firm has serviced clients such as, Ralph Lauren, Victoria Secret, Hugo Boss and Gucci. After many years, they decided to make their own unique cigar company.
.
Bad Dog Cigars uses tobacco from Northern Nicaragua and a wrapper from Rhodesia (now known as Zimbabwe). They offer three sizes, a robusto (5x52), a toro (6x52), and a torpedo (6x54). Thanks to Duque Cigars, I had the chance to sample the toro size.
.
The wrapper on this box-pressed cigar was not bad looking. It was vein-free and had a yellowish brown hue. The texture was "paperbag" smooth and felt slightly spongy. Faint notes of sweet hay were detected prior to lighting.
.
Once lit, the cigar had an easy draw with lots of body in the smoke. I should mention that the tip of this cigar is sweetened, which unfortunately made me not want to take this cigar seriously. (Bad Dog indeed!) The flavor is mild with woody and hay-like notes coming through to a sweet finish. The cigar also displays some nuttiness after several puffs, along with a "soapy" quality. The finale of the cigar includes hints of raisins. Overall, the taste is smooth, with nary a bite detected in the throat.
.
The burn quality was satisfactory. The burn line should stay mostly even if you can remember to rotate the cigar as you smoke. I find this to be a little awkward with box-pressed cigars. The ash was light gray in color and pretty compact. It held on well until ready to be tapped off.
.
This cigar is available at Duque Cigars for $46.08 for an 8 pack tin can, or $115.43 for the 20 pack film can. For some reason, they also sell posters of some barely dressed women posing with cigars for $17.89. Brothers, if this is your thing then Bad Dog Cigars just may be the stick for you. Woof!
.
.
.