.
The Vengeance Maduro Ligero is made by Exclusive Cigars , the same makers of Kristoff cigars, which I really enjoy. This cigar debuted in September of last year. It uses a Brazilian Maduro wrapper, a Cuban seed Honduran binder and a filler of Cuban seed Dominican and Honduran tobaccos. The cigar is available in four sizes: a robusto, torpedo, super toro and a 6 x 60. I had the pleasure of smoking the robusto, courtesy of Silo Cigars.
.
The robusto is 50 ring gauge by 5.5 inches long. The cigar comes wrapped in a cedar sleeve with an additional band at the foot. This rustic looking Maduro has a leathery aroma and actually feels like leather as well. The cigar feels evenly packed and has a nice oily sheen.
.
The draw on the cigar was just perfect. It was free and clear with a slight resistance. The volume of smoke produced was thick and creamy. The initial flavors showed rich espresso with a balance of sweet cream. There was also a unique floral note (manufacturer describes it as "apricot"?) which comes through at the beginning of each draw. Black pepper shows up on the finish and leaves a slight tickle to the throat. Eventually a helping of walnuts are included with the last half of the cigar showing primarily floral, nutty, hard wood, spicy and sweet notes. I did notice a slight similarity of the floral note of this cigar to the Kristoff Criollo. Nevertheless, it definitely has it's own unique flavor that I've never tasted before. It's quite tasty.
.
This cigar is available in boxes of 20 for around $121. You can call Silo Cigars at 1-865-675-7456 to find out more and to order. I would definitely smoke this cigar again. It burns evenly, the ash stays on despite some flowering. The cigar draws like a dream and the flavors are full but nicely balanced. I can see why Exclusive cigars has become a fast growing boutique company.
.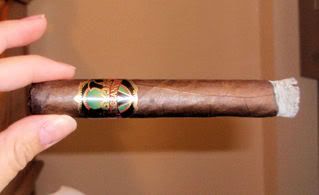 .
.