.
I can honestly say that I haven't tried very many La Flor Dominicana brands. I think the only one I've smoked is the Coronado by La Flor. Back when I first started smoking cigars I was too intimidated to smoke brands known for their full bodied strength, like La Flor Dominicana and their Double Ligero Chisels. But, with the La Flor Dominicana Premium Grand Maduro #5, I've found a cigar that is full of flavor without being over powering in strength.
.
The La Flor Dominicana Premium line encompasses two wrapper styles, a USA Connecticut
Shade and a USA Connecticut Broadleaf Maduro. The binder and filler are both from the Dominican Republic. I had the pleasure of smoking the Maduro #5 which is a toro sized cigar measuring 52 ring gauge by 6 and 1/4 inches. This cigar retails for about $183 for a box of 24.
.
The cigar itself has a wonderful rich earthy aroma with notes of dark chocolate, while the foot gives off scents of sweet dried fruit. Both of the Maduro #5s that I smoked appeared well constructed. There were no heavy veins and the wrapper feels nice and smooth with a pillow-like softness over a firm inner core. The USA Connecticut Broadleaf had it's characteristic blotchy appearance, but nevertheless I wouldn't call it rustic.
.
Initial flavors showed rich espresso, along with a tart woody flavor. After about the one inch point, the cigar begins to develop a leathery body and dried fruit notes. The spice level begins to increase and stays consistent for the remainder of the smoke. The second third settles nicely into a nutty, leathery, spicy smoke that is downright fabulous. A warning though, this is a spicy cigar that made me want to reach for an antacid. The last third showed an enhanced dried fruit sweetness and nice aged tobacco flavor. Overall, the flavors were smooth and well balanced. The strength level was medium to full.
.
The burn characteristics was above average with a mostly even burn line that was sharp and an ash that was mostly compact and light gray in color. The smoke volume started off a little thin due to a firm draw, but eventually it opened up into a nice creamy full-bodied smoke.
.
Overall, I was really impressed by the quality of this cigar. The construction looked top-notch and the flavors did not disappoint. I am motivated to try more La Flor Dominicana cigars because I enjoyed this one so much. I believe La Flor Dominicana has changed the look of their cigar bands, so my picture may not show the more current design for this cigar. Nevertheless, whatever version you come across at your local B&M, I highly recommend you give it a try, especially if you like spicy and earthy tasting cigars.
.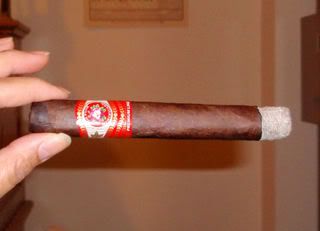 .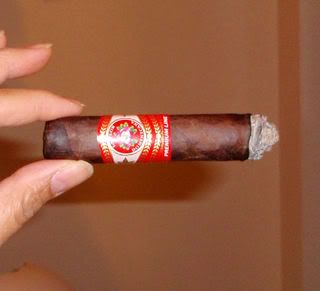 .