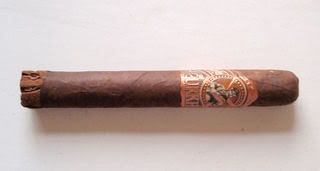 .
This review is sponsored by Fumeeworld.com/estore.
.
The Gurkha Vintage Shaggy debuted in 2006. According to Gurkha's website, it's a Dominican puro with an eight year aged wrapper and a six year aged filler and binder. This cigar comes in four sizes and in boxes of 25. The lovely people at Fumee World provided me with the Toro, which measures the traditional 50 ring gauge by 6 inches long.
.
The Gurkha Vintage Shaggy has a novelty look about it. As the name implies, it has a shaggy foot which allows you to light the cigar easily. The rest of the cigar looks and feels purposefully rustic as if it came right off the roller's table. These cigars are priced on the lower end of what Gurkha usually charges for their cigars, with the Toro going for about $7 a stick.
.
This cigar had a cedary aroma with notes of peppery gingerbread on the pre-light draw. The cigar felt very firm and coarse to the touch. Nevertheless, I had no problems with the draw, which produced a nice medium to full bodied smoke.
.
The initial flavors were of a slightly charred wood and dark mocha. The taste was dry and tart with not much sweetness. After a short period of slight bitterness, the cigar eventually settled down into a nice rich earthy and leathery flavor which remained consistent throughout the smoke. For those who don't want a lot of spiciness in their cigar, I would recommend trying this cigar.
.
Overall, this cigar was pretty straightforward. The burn line was even throughout and didn't require any touch-ups. The ash was firm and had an impressive bright white color. It was easy to smoke and should make for a relaxing experience. This cigar would make a great social cigar to be shared among friends.
.
.
.