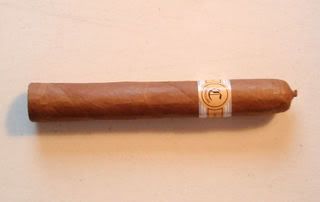 .
This review is sponsored by Silo Cigars, home to rare cigars, aged cigars and hard to find boutique cigars.
.
The Cabaiguan Guapos Junior is a 42 ring gauge by 4 and 5/8 inches long "petit corona". It is rolled in Esteli, Nicaragua at Don Pepin's Tabacalera Cubana factory and sent to the El Rey de los Habanos factory in Miami, Fl for additional quality control. The wrapper is a sun grown wrapper from Ecuador, the filler and binder are both from Nicaragua.
.
My sample cigar was beautifully rolled and finished off with a neat triple seamed pig-tailed cap. The cigar feels smooth to the touch with no noticeable veins, and also feels evenly packed. The pre-light draw was free with slight resistance and a peppery heat can be felt on the lips and tongue.
.
The cigar performed well once lit, with thick volumes of smoke with each draw. The burn line was even and sharp and the gray ash was nice and compact. The flavor profile unfortunately was not as impressive. The taste was too dry and toasty, lacking in sweetness and very one dimensional. The woody body was acidic and slightly peppery without any counterpoint for balance. The final third introduced a tangy leather note and more pepper, which seemed more harsh than enjoyable.
.
Overall, I would say that I prefer the flavors of the shade grown wrappers of the Cabaiguan line and larger vitolas of the Guapos version. For example, I would recommend the Guapos Rx which is 50 by 5 and 1/4. However, before I totally write off the Cabaiguan Guapos Junior, I would like to smoke it again under more humid conditions to see if it improves it's taste. I will let you know when that happens and report my findings in an update. Until then, I suggest you save your $7.50 (a stick) for a cigar better deserving of it.