.
Mi Dominicana by Jose Seijas is a Dominican puro made by the General Manager of the largest cigar factory in the world, Tabacalera de Garcia for Altadis USA. This brand is available in eight sizes with prices ranging from $134 to $162 for a box of 20 depending on the vitola. This review is sponsored by Silo Cigars who provided me with the corona size which measures 44 ring gauge by 5.5 inches long and retails for about $7.50 a cigar.
.
The cigar was well constructed but had a "rough" appearance to it with a few wrinkles and medium sized veins scattered randomly over the surface. The color of the wrapper was a greenish-tan hue with tiny visible tooth. I could not find what tobaccos were used in this cigar, but if I had to guess, it looked an awful lot like a Cameroon wrapper.
.
The texture of the cigar was veiny and felt akin to a "paper bag", while the feel of the cigar showed a few minor soft spots but nothing to cause any concern. The cigar band was pretty simplistic looking but still quite tasteful in it's presentation.
.
The initial flavors started off tart and woody with just a hint of sweetness and mild spiciness. After several puffs, a bright leather flavor comes through, but the overall sensation is dry and toasty. The flavors were crisp and smooth with no hints of bitterness. The spiciness was nicely balanced and not overwhelming. The finish was nice and long and remained dry throughout the smoke. The second and last third was mostly leathery and woody with no complex transitions happening anywhere on this cigar. I would like to compliment Mr. Seijas for dressing the cigar with an unpretentious cigar band to match the straight forward flavors of this cigar.
.
The burn characteristics of this cigar was mediocre. The ash was slightly flowery and light gray in color but held on well until I was ready to tap it off. The burn line was slightly slanty to canoe-like in shape, but it finally straightened out in the last third with one touch-up and by smoking the cigar with the canoe shape aimed downward.
.
Overall, this cigar was medium to full bodied with consistently smooth flavors. The lack of complexity makes me hesitant to want to lay down $7.50 for another cigar. But, that's just me. If you are a lover of all things Dominican, you won't be disappointed in this well balanced smoke.
.
.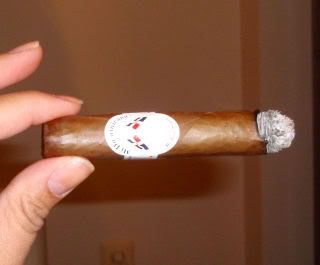 .