.
This review is sponsored by Silo Cigars.
.
Just because you see a gazillion Rocky Patel brands floating around doesn't mean he doesn't produce some incredible gems of a smoke. The latest Rocky Patel Renaissance is an example of a truly exemplary cigar. This cigar uses a four year aged Ecuadorian Sumatra wrapper, a binder from Jalapa, Nicaragua and a blend of rare tobacco from Nicaragua, along with ligero from an undisclosed region of Central America. Due to the limited quantities of this exceptional tobacco, only 6000 boxes or 120,000 cigars will be produced annually.
.
This review is on the robusto size, which is a traditional 50 ring gauge by 5 inches long. The cigar was beautifully constructed with a nicely formed cap and even firmness throughout. The wrapper was Colorado Maduro in color with some dark brown blemishes mixed in. The veins were thin and posed no problem with the burn properties. The cigar band is attractive and matches well with the cigar's overall appearance. The robusto retails for around $121.50 for a box of 20.
.
Right from the first light, I knew that this cigar was a winner. The smoke volume was nice and thick and the draw was absolutely perfect and effortless. The initial flavors were clearly defined with strong notes of rich mocha, sweet cream, and spicy pepper. It was absolutely tasty. I also tasted hints of cinnamon and sweet raisin, along with a slight roasted nut flavor. The cigar showed nice balance and smoothness and didn't waste any time giving me a nice long finish.
.
The delicious flavors stayed consistent through to the beginning of the second third. Then, at the "sweet spot" the cigar's flavors deepened further to a sweet creamy leather, roasted nuts and nice aged tobacco taste. The spiciness fell to the background and allowed me a nice pleasant smoking experience. The finale of the smoke brought back some of the pepper but not like the beginning, the flavors remained deep and rich with no hint of bitterness. The cigar smoked nice and cool to the very nub, and I guarantee you, you will definitely want to nub it!
.
The cigar burned evenly with a nice sharp burn line. The ash formed was salt and pepper in color and held on nicely until I was ready to tap it off at the one inch mark. I did get some lifting along a small portion of the wrapper seam near the cap, but I will blame this on seasonal conditions with low humidity.
.
Overall, I would absolutely recommend this cigar to all smokers who enjoy medium to full bodied cigars. The strength was easily tolerated by me, as I smoked it in the morning on an empty stomach. I think you will find this cigar to be a very elegant smoke with incredibly rich flavor.
.
The Rocky Patel Renaissance is available at Silo Cigars. You can order by phone at 1-865-675-7456. They offer outstanding service and speedy shipping. What more can you ask?
.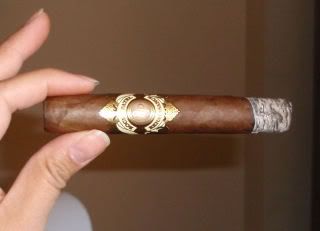 .
.