.
Puros Indios Viejo is a limited edition cigar introduced in 1999. Only 50,000 cigars were made and aged for four years. This cigar is offered in boxes of 15 and come in five sizes. The "Nacional" is a lonsdale sized cigar measuring 45 ring gauge by 6.5 inches. The wrapper is a ten year aged Ecuadoran Sumatra, the binder is Ecuadoran Sumatra and the filler is made up of Dominican, Nicaraguan and Brazilian tobaccos.
.
This cigar was provided to me by Mr. Frank Santos of Reyes Family Cigars. Take a look at some of the reviews I've done so far on his company's cigars.
.
The single cigar Mr. Santos provided me looked like it had some age on it. From my photos it looks like some plume was starting to form on it, which is a good thing. The cigar had a rustic appearance which doesn't bother me as long as it is flavorful. The wrapper had an "olive wood" color to it, along with some dark brown blemishes. It's texture was like suede and it had a slight lumpiness all over.
.
The pre-light draw tasted of white pepper and some black licorice. After easily lighting the cigar, I noticed that the body of the smoke was a little thin to start off. The initial flavors were predominately woody, with touches of vanilla and cream. The smoke had some tart acidity and a slight bitterness which fortunately was not long lasting and may have been due to a lack of humidity in the room I was in. The cigar then took on a hint of roasted nuts and some leather, with the second third settling down nicely into a more harmonious blend. The flavors intensified nicely, showing some tasty warm spices like spicy cinnamon and nutmeg, while remaining primarily toasty and dry. The body of the smoke moves up into the solidly medium range and remains consistent through to the last third.
.
The cigar burned slightly un-even at first, but then self-corrected without any touch-ups. The ash formed was incredibly clean and white. It was firm and compact and held on strongly until I was ready to tap it off.
.
Overall, I found the Puros Indios Viejo a pleasure to smoke. Despite the tart and slightly bitter beginning, the cigar managed to settle down nicely into a nice cedary/leathery smoke with tasty warm spices mixed in. The Nacional proved to be the perfect size to enjoy the smooth concentration of aged tobacco from four countries. Looking at on-line prices, I found a box of 15 Nacionals going for around $69.20. That is not bad for a limited edition cigar!
.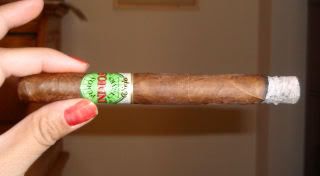 .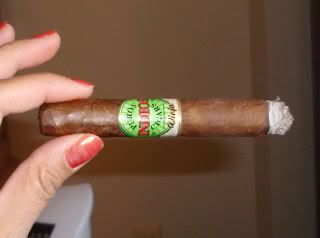 .