.
This Los Blancos Premier Selection has a Nicaraguan grown Connecticut shade wrapper, a Honduran binder and a Nicaraguan filler. It was created by Cesar and David Blanco in 1998 along with three other styles: a Criollo (green), Maduro (yellow), and Sumatra (red). They come in seven different sizes. I smoked the toro size which is 52 ring gauge by 6 inches. All sizes come in boxes of 24. The MSRP for a box of toros is $140.
The cigar had an attractive appearance. The Connecticut shade wrapper was smooth in texture and had a nice even color. The construction was neat and the cigar felt nicely packed with the exception of one minor soft spot near the cap. The aroma of the cigar was reminiscent of barnyard hay with some dried fruit detected at the foot.
The cigar had a nice draw feel after being clipped by a Palio cutter. The flavor of the draw was similiar to the cigar's aroma- sweet, fruity, notes of hay. After lighting the cigar, the initial smoke volume was disappointingly thin. The flavors in the first third were just as unimpressive as the smoke volume- sharp bitter wood flavors with an acidic tinge. Not even the slight honey sweetness could overcome this bad taste. The cigar seemed to lack the creaminess that I have come to enjoy in mild cigars.
The second third, on the other hand, showed a dramatic improvement in the flavor profile. There was more depth and richness that seemed to be lacking in the first third. While not complex, the strong cedary overtones and long slightly peppery finish were very enjoyable and much more relaxing than the abrupt acidic flavors at the start of this cigar. I would classify the body of this cigar to be mild to medium.
The burn characteristics of this cigar were just above average. The burn line was slightly slanted, but didn't need to be touched up. The burn zone was sharp and the ash formed was light in color, strong and compact past the one inch point. When I ashed the cigar, I could see that the ligero leaf was off center which explained the slanted burn line.
Overall, this cigar starts off slow, but once you get past the first third the flavors are actually pretty enjoyable. The price point of these cigars seems fair considering the cigar has good quality characteristics. If you enjoy mild to medium cigars, I would recommend you try the Los Blancos Connecticut.
.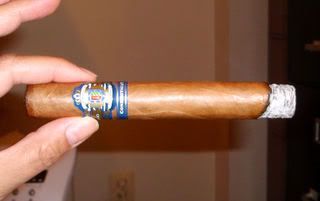 .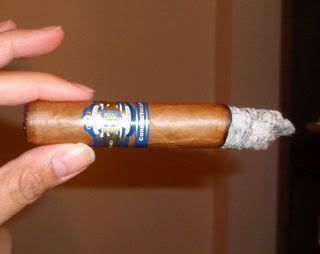 .