.
This review is sponsored by Silo Cigars, home to rare cigars, aged cigars and hard to find boutique cigars. I smoked the robusto size, which is 52 ring gauge by 5 and 1/2 inches.
.
The Casa Magna Colorado cigars are the brainchild of Manuel Quesada (known for his Fonseca brand) and Nestor Plasencia (famous for his tobacco used in many well known brands including his own). The cigar is a Nicaraguan puro using Cuban seed tobacco from Mr. Plasencia's farms in Esteli and Jalapa, plus utilizing rollers from his Segovia factory in Esteli, Nicaragua. The August 26, 2008 Cigar Insider rated the robusto an impressive 92 points.
.
The highlight of this cigar is it's gorgeous oily Cuban seed Colorado wrapper. I sat outside in unusually warm and sunny 73 degree weather and just admired how inviting this cigar looks. The cigar has a slight tooth to it, as well as a scattering of dark brown blemishes and a few minor natural dings which gives it a nice organic appeal. The texture of the surface is slightly coarse, but certainly not to the point that I could file my nails on them. The feel of the cigar is solid, heavy and evenly packed.
.
The pre-light draw after clipping the cap is firm yet clear. Strong notes of white pepper, aged tobacco and dark chocolate come through to tempt my taste buds. The cigar itself has clean earthy aromas and a touch of cedar, sweet tobacco and spices at the foot.
.
After lighting the cigar, I noticed that the firm draw forces me to smoke the cigar slowly, which is not a bad thing considering the smoke starts off very flavorful and creamy. The body starts off medium and does grow to full in the second to last third. The ash is medium gray in color and is mostly compact with slight flowering, but it does hold on past the one inch point when I chose to tap it off. The burn line, while not straight, was relatively even throughout the whole smoke and did not require any touch ups or re-lights.
.
The initial flavors showed a nice dark caramel sweetness, creamy body, and a nice balance of pepper, rich cedar and dark mocha. At about the one inch point, the flavors deepen but remain harmonious through to a very long finish. I would characterize the blend as classy and elegant and ideally suited for the cigar connosieur looking for balanced complexity.
.
The second third adds a nice aged tobacco flavor, with cedar, pepper and caramel rounding out the flavors. Leathery notes begin to develop and does a nice tango with the cedar. The resting smoke of this cigar smells delicious. Warm spices, aged tobacco and hints of dark chocolate caress my senses. This is the type of cigar that you want to bring to a special gathering involving dressing up. Tailgating and casual poker games would just distract you from enjoying it's nuances.
.
The last third brings on rich leather, roasted nuts, black coffee notes, along with aged tobacco. Resting between draws is essential to keeping the smoke cool and smooth.
.
Overall, I agree with the high rating that this cigar has earned. It shows complexity that many cigars lack, plus it's heft and quality construction makes you think you are getting more cigar for the money. The prices of all the cigars in the Casa Magna Colorado line are an outstanding value. The MSRP ranges from $4.75 (corona) to $6.00 (gran toro and belicoso). ("Are you kidding me!") I'm afraid to say that they are worth so much more for fear that the manufacturer will think that they made a mistake and start charging more for them. Even the quality paper cigar band and handsomely adorned cherry stained wooden box used for this cigar makes you wonder how they can charge so little for them!
.
If you see them at your local B&M, you must grab several of them before the word gets out. Or, you can call my friends over at Silo Cigars and place your order over the phone (1-865-675-7456). I believe SAG Imports does not allow the sale of these cigars on-line. I plan on giving a box of these cigars to my cigar smoking father-in-law for Christmas. They should age just fine for him to enjoy on his sailboat when the weather gets warmer next year.
.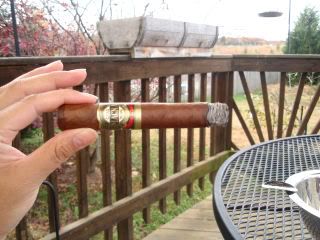 .
.