.
The Carlos Torano Tribute line is a limited edition brand created to honor Carlos Torano and his contribution to the art of fine cigars. It has been four years since the last Tribute has been unveiled. The 2008 Tribute was aged for six months and comes in three sizes: churchill (47x7), robusto (50x5), and torpedo (52x6.1). Only 1200 boxes of each size will be released and 60,000 of them will be sold in the U.S. market.
The tobacco used in the new Tribute will be a Brazilian Mata Fina wrapper, a binder from the Pueblo Nuevo farm in Nicaragua, and long fillers from Esteli and Jalapa in Nicaragua. This review is on the robusto which will retail for about $175.50 for a box of 20, with singles priced between $8.78 to $9.20.
This cigar had a rustic look to it, with a slightly veiny and lumpy appearance that I have seen before on other Brazilian Mata Finas. The wrapper was the shade of dark rich soil, which was appropriate to it's actual aroma. Notes of dark bittersweet chocolate and black pepper were also detected at the foot. The feel of the cigar showed some un-even packing but this fortunately did not affect the draw or burn qualities when I smoked the cigar. The label presentation was classy with it's color scheme of glossy black with gold accents. It was understated enough to be elegant.
The body of the cigar was medium to full. The initial flavors were woody and peppery but then it developed a nice creaminess and touch of sweetness which I really favor. After several puffs, the pepper fades to the background and notes of mocha, roasted nuts, cinnamon and vanilla come through to a dry finish.
The flavors in the second third were really delicious. The body was still creamy and slightly sweet with notes of cinnamon and raisins. The pepper was still present but just as a tickle to my throat on the finish. The primary flavors at this point were chewy leather, mocha and roasted nuts. The cigar remained smooth and flavorful through to the last third, with profound cedar, leather and roasted nut flavors continuing on to the very nub. What a tasty smoke!
Overall, the cigar burned extremely well. The draw was easy and free but not too loose. The burn line was relatively even throughout and the ash was picture perfect, being mostly salt with pretty dots of pepper mixed in. The ash stayed compact and held on well until ready to be tapped off.
This cigar is worthy of being a "tribute" cigar to a fine cigar artesan such as Carlos Torano. While I probably won't be buying a lot of them due to it's premium price, I would certainly pick up a stick or two on occasion( if I can find them) to appreciate it's well made earthy blend.
.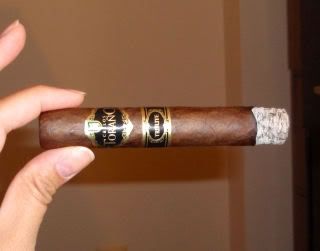 .
.