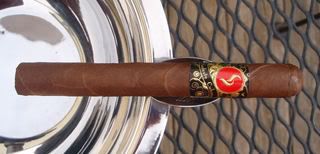 .
The Sudeste Cubano is a new cigar just recently released by Silo Cigars. I spoke with Kevin Phillips (owner of Silo Cigars) who talked with me about his experience with creating this new cigar. You can read the interview by clicking here.
.
When I received the cigars, I was really impressed with the way it looked. The gorgeous Modern/Industrial cigar band with bright red and gold foil accents plays off nicely against the back drop of the wrapper which is a nice rich dark brown color. The wrapper is a Sun Grown Habano from Ecuador that displays a nice earthy aroma. Overall, the cigar looks well constructed and finshed off with a neat triple cap. The rest of the cigar is composed of an Ecuadorian binder and Nicaraguan filler.
.
I've decided to review the Coronita size first because I really love the feel of this particular vitola in my hands. It is 44 ring gauge by 5.5 inches, and I can't think of a more perfect size for women to feel comfortable with. Although I'm sure a lot of men would enjoy this small size for a convenient smoke when time just doesn't allow for something bigger.
.
The cigar smokes smooth and easy, with just the perfect draw which isn't too loose or too difficult. I attribute this to the fact that they are rolled by experienced Cuban rollers who have years of experience. The cigar starts off medium bodied with notes of Asian cinnamon, dark coffee and vanilla. I also tasted a woody element but could not specifically determine which kind. The finish is short and clean.
.
This Coronita is the type of cigar that just gets better as you continue to smoke it. There is a nice harmony to the blend that really hits it's stride in the second third. The cigar makes a nice transition into a more creamier body of roasted nuts, hot spices, and a touch of caramel sweetness on the finish. The spice level is just the right amount without going overboard into harshness.
.
The final third moves the cigar up into the full bodied category, with a predominate leathery character and a nice long finish. I liked that the cigar stayed cool even though the ash was near my finger tips.
.
Overall, I really enjoyed smoking the Sudeste Cubano Coronita. The cigar smoked really smooth and cool despite being a small ring gauge cigar. The flavors are nicely balanced and not too spicy so I think most levels of cigar smokers can tolerate it. The cigar is priced at $5.60 a stick and is also available in boxes of 20 for $100.80. This is a small production cigar made in Little Havana Miami with only 10,000 cigars made. I would definitely recommend trying them before they sell out.
.
.
.