.
Pioneer Valley Cigars is a new brand for 2008 that is made in the Dominican Republic by Tabacalera el Torcedor CxA and distributed by CVE Cigars, LLC. of Southwick, Mass. Here is a description of their cigars from their website:
.
"The farms of the famed Connecticut River Valley – from Middletown, Connecticut, north to the Massachusetts/Vermont border – have been producing what is generally agreed to be the finest tobacco available for cigar wrappers since the mid-1800s.
Located dead-center of the Connecticut River Valley is Massachusetts' Pioneer Valley. It is here where CVE Cigars draws on the experience of generations of tobacco growers for the authentic Connecticut Valley Shade and Broadleaf tobaccos used in its Pioneer Valley Especiales (PVE) classic and maduro cigars.
The PVE classic is a traditional cigar manufactured with premium hand-selected Connecticut Valley Shade wrapper and the finest Connecticut Valley Broadleaf binder combined with rich Dominican fillers. The PVE classic is available in Churchill, Corona, Robusto, and Torpedo sizes.
The PVE maduro is an authentic dark cigar, wrapped with Connecticut Valley Broadleaf. Our maduro uses mild Connecticut Valley Shade tobacco as binder, combined with rich Dominican fillers. The PVE maduro is available in Churchill, Robusto, Torpedo, and Toro sizes.
Every Pioneer Valley Especiale is handcrafted in the Dominican Republic.
If you long for a traditional cigar that evokes the golden age of cigars, Pioneer Valley Especiales will earn a place as your favorite smoke. "
.
Of the two brands that they offer currently, my favorite is the Pioneer Valley Especiales Classic. The craftmanship on this cigar is impeccable. The gorgeous buttery tan USA Connecticut shade wrapper is vein-free with nice tight seams and gives off an aroma of sweet hay fresh off the farm. The texture of the wrapper is smooth and the 43 ring gauge by 5.75 inch corona feels "oh so wonderful" in my hands and mouth.
.
The Classic is available in three other sizes, a Churchill (50x7), Robusto (50x5), and Torpedo (52x6.75). The MSRP of these cigars ranges from $118.75/box of 25 for the corona to $129.75/box of 25 for the churchill/torpedo. That's about 4.75 to $5.19 a stick.
.
As mentioned above, the Classic uses a USA Connecticut Broadleaf binder and a filler of Dominican tobaccos. I found the flavor of this cigar to be mild to medium. Initially the cigar started off with a nice sweet cream body with hints of vanilla and hay. The finish was clean and toasty with notes of pine wood. I was surprised at the lack of strong coffee flavor considering it uses Connecticut Broadleaf, but nevertheless it provided the cigar with a nice balance of sweetness that was absolutely necessary. The cigar then transitioned nicely in the second half to a nice cedary/leathery profile with a touch of mild pepper on the finish. Overall, the cigar smoked smoothly with no bitterness or harshness.
.
The burn characteristics of this cigar helps it to earn many praises, with it's "straight as an arrow" sharp dark ebony burn line that plays off nicely with the elegant black and gold cigar band. The ash is bright white with flecks of pepper and looks compact but needs to be ashed sooner than you think, due to it's small ring gauge.
.
This cigar makes a fantastic morning cigar or anytime you need a mild and smooth smoke. I highly recommend it, especially to beginners. Also, I think the ladies would absolutely love the corona size. It's slim and elegant and has a draw that smokes effortlessly.
.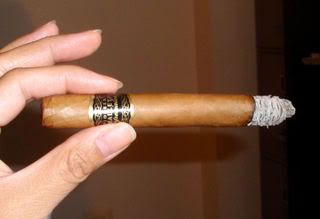 .
.