.
I was fortunate to receive some new 2008 releases to the Carlos Torano line provided to me by Mr. Bruce Lewis, Brand Manager of CAO International. My only previous experience with Carlos Torano cigars was with the 1916 Cameroon corona, which I absolutely loved. You can read my review of it here. Now, after smoking the Carlos Torano 1959 Silver Exodus, I think I've found myself another favorite cigar.
.
The 1959 Silver Exodus line was introduced in 2002. The Exodus line commemorates the exodus of Cuban cigar families after the take over of tobacco farms and cigar factories by the Cuban government in 1959. The Silver Edition version of the Exodus (of which there is also a plain Exodus version) consists of a Honduran Criollo wrapper, Costa Rican binder and a filler of Costa Rican, Honduran and Mexican tobacco. A new size has been added called the Toro Elegante, which is 55 ring gauge by 5.5 inches.
.
I don't know how the other vitolas taste but my experience with the Toro Elegante tells me that this is the perfect size for this blend. The whole cigar looks amazing and feels substantial in my hands. The wrapper is nice and oily with tooth visible and no heavy veining. The color is a pretty Colorado Maduro and the shape is box-pressed. The overall construction looks flawless and the tobacco used appears to be high quality. The aroma of the cigar is fabulous. It has a nice sweet and spicy earthy scent and the foot smells even tastier with notes of sweet spiked fruitcake.
.
The cigar clipped easily with a double guillotine cutter and the resulting draw was just perfect with only a slight amount of resistance. Because of it's wide ring gauge, it did take more effort to evenly light, but that's just plain common sense. The cigar had a nice "comforting" feel to it despite it's large size. The box press also felt nice every time I took a draw.
.
The initial flavors were woody (think oak), spicy (think pepper and cinnamon), creamy, and caramel sweet on the finish. There was a perfect balance of all these flavors with not one overpowering the other. The body of the cigar starts off in the medium range.
.
The second and last third expands the blend into a fuller leathery body followed by roasted nuts and a touch of spice. The cigar maintains it's balance with just the right amount of sweetness on the finish. This is one cigar where words just don't do justice to how fantastic it tastes. You must really experience it for yourself.
.
The burn quality of this cigar was above average for a box press. The burn line at times was a little un-even, but it corrects itself without having to touch it up with a lighter. There was one point where a small hole in the filler loosened the draw volume, but once I burned past that point, the smoke body improved dramatically.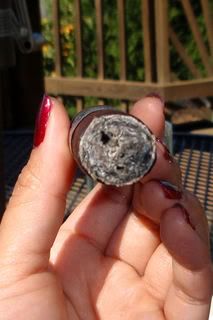 The ash was attractive- strong, compact, and light in color.
.
Overall, I would have to rank this cigar in my top ten category for the year. It's definitely a cigar that will deliver reliable smooth and complex flavor, and is a must have to keep in your humidor for when other cigars disappoint you. Unfortunately, I have not been able to find it at my local B&M or on-line yet. So, if you come across it, let me know so I can buy a box for myself. Depending upon where you shop, prices appear reasonable, with the most expensive being $4.10 for the torpedo or a box of 25 for $87.95. For what you are getting, this is a definite steal.
.
.
.