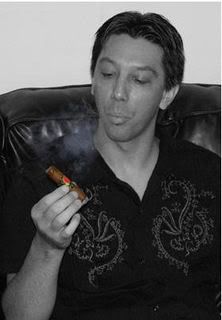 .
"A full year after starting this project we have finally released our very own line of cigars. All of our cigars are hand crafted in the USA (Little Havana, Miami) by "Level 9" rollers all of whom have worked for world-renowned factories such as Romeo y Julieta®, Corona®, and Partagas®. Each cigar is made in the traditional Cuban style of tubing the filler (entubado) and then finished off with a beautiful triple cap. Each "tarea" (days work) is then inspected by another Master Roller/Blender to ensure the cigar is of the highest standard for the aficionado. Due to the high standards placed upon our rollers our cigars are made in small quantities to ensure quality and consistency that only a boutique manufacturer can produce. The cigars are very rich with with noticeable spice on the tongue. With only a total of 10,000 cigars made per year this is truly a limited production cigar. Look for many reviews by customers to be posted soon. This is my personal size cigar that is only available via singles. Each cigar is blended a little different depending on the size and this one is the strongest of the Sudeste Cigars. The people that have smoked the pre release samples referred to it as the MindRiot (like my forum handle) due to the strength."
.
Wrapper- Ecuadorian Sun Grown Habano
Binder-Ecuadorian
Filler- Nicaraguan
.
HH- What is the significance of the name "Sudeste Cubano"? I know that your store is located in Knoxville, TN... are you of Cuban descent?
KP- The Sudeste name was a natural fit for us because it means southeast, which is where we are located. The Cubano came from the particular factory that is making the cigar for us. All the rollers and employees are of Cuban descent so we pay homage to them. The official name of the cigars are Sudeste Cigars and if we do different blends then we will add a name to it. And no, I am not of Cuban descent.
.
HH- How long have you been in the cigar business?
KP- I grew up on a farm and we raised tobacco every year, from 1 to 10 acres each season. Once I left home I worked at a graphic design/web firm and then went into the cigar business. My total combined experience is over 12 years in the cigar business, but I consider myself to have been in the tobacco business most of my life.
.
HH- Tell us about your first cigar experience and which cigar did you first fall in love with?
KP- My first cigar experience was actually a hand rolled custom blend before the cigar boom. I thought it was way too harsh and overpowering. It almost kept me from wanting to pick them back up. Then a friend actually gave me an Arturo Fuente and I was blown away by the flavors and balance. I was hooked ever since.
.
HH- How long did it take for you to find your signature blend?
KP- We worked on this blend since last December. Originally we started at a different factory and just was not happy with the quality and blend. After scrapping that one, I decided to go with a true low production unique blend that has some familiar flavors but is unlike anything else on the market.
.
HH- Was the process of creating your cigar easier or harder than you imagined? Please elaborate.
KP- This is my third cigar project. I have worked with Pete (Johnson) at Tatuaje on a custom cigar for a store I was working at. Then I created another cigar for the same store which they still have and do very well with. I find creating a cigar is as easy as the people you're working with. If the blender is good and I can relay to him what I want, it makes all the difference. I would say it is not easy but it is a lot of fun and very rewarding for me to see that I am not the only person to like them.
.
HH- Who designed your cigar band?
KP- The band and logo is a take off of Silo's flame logo and turned into an industrial/post modern look. I worked with a graphic company to perfect the over all screening and final look. I was really nervous about the final image because a flat image is completely different than an embossed gold foil band printing. I just had to make the call and roll with the final image and hope I made the right choice.
.
HH- What is your favorite vitola size in general and why?
KP- Hands down the Corona Gorda size. To me, it is the perfect size to taste all the different components of the blend. If you can make a great tasting Corona Gorda, then you have an awesome blend that can shine in all sizes. I will only release the Sudeste Corona Gorda in singles because the cigar is just special to this entire project and it takes on a life of its own.
.
HH- Are you planning on creating more blends for Sudeste Cubano in the future?
KP- Yes, I am experimenting with a Maduro and a Fuerte (stronger version) right now. Like this blend I am sure it will take some time to get what I want.
.
I would like to thank Kevin for taking the time to answer my questions about his new Cigar brand available now at Silo Cigars.
.