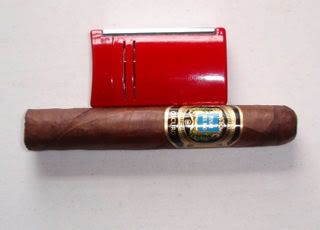 .
After giving my taste buds a rest lately, I was ready to take on a "sledge hammer"-type of cigar. Bring on the Pinar Del Rio Habano Oscuro! This cigar is the creation of messrs Abraham Flores and Juan Rodriguez. It was named for the famous province in Cuba considered the mecca of tobacco cultivation and cigar production. This cigar is manufactured in Tamboril, Santiago Dominican Republic at the Tabacalera Don Leoncio factory. Four traditional vitolas are offered: robusto (5x50), toro (6x50), torpedo (6.5x52), and churchill (7x50).
.
The robusto size was sent to me by the wonderful folks over at Silo Cigars. Silo Cigars stocks some of the best boutique brands available today. The robusto is priced $5.40 a single or $135 for a hand crafted wooden box of 25. Click here for prices on the other vitolas.
.
This cigar contains Nicaraguan and Dominican filler, a Dominican Habano binder, all wrapped by a Dominican Habano Oscuro leaf. The wrapper looks "fresh off the farm" rustic yet appears tightly rolled with a neatly done cap. The color shade is a pretty reddish brown with nice oils and plenty of tooth to impart a slight coarseness to it's surface. The cigar aroma is strong and emits notes of dark chocolate, earth, and sweet cedar. The pre-light flavor is indicative of rich spicy tobacco. I recommend having some water handy before lighting up.
.
The initial flavors are smoky cedar, vanilla, and cayenne pepper. It starts off smooth and vibrant with a long spicy finish. The cigar then develops some nuttiness with the cedar morphing into rich chewy leather. The flavor is a little on the salty side with any sweetness being overshadowed by the heavy cedar and leather overtones. This cigar is full-bodied and full-flavored and shows wonderful aging potential.
.
The cigar performs effortlessly with a perfect draw generating lots of flavorful smoke. My only complaint is that cigar seemed to be smoking fast, so care should be taken to avoid overheating the tobacco and causing it to turn harsh. The resting smoke is pungent with sharp wood and spice scents. It is definitely not for the faint of heart. The ash is "exhaust fume" dirty and flowery like a peace lilly but it manages to hold on at least to the one inch point.
.
Overall, the Pinar Del Rio Habano Oscuro will never be mistaken for a wimp. It comes out throwing haymakers like old Mike Tyson and stays hard hitting until the very nub. This cigar is for grown folks with seasoned palates or young bucks who like their cigars strong and assertive. It also makes a great candidate for humidor aging.
.
Please excuse the chipped manicure. It's the result of having to pry open my tightly sealed humidor!