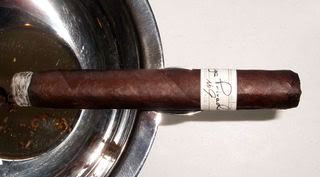 .
How many times have we heard it before? A cigar made just for the owner of the company that is now available for sale to the general public. Makes you want to question the story's authenticity. But in the case of the Liga Privada No. 9, I am inclined to believe it. If I was president of a cigar company, I wouldn't mind having this cigar as my private stash.
.
The wrapper is a USA Connecticut Broadleaf. I'm not sure if it's maduro or oscuro, but it sure is dark. I've seen some ugly Connecticut Broadleafs lately, so I was surprised to find that this one was more "Brad Pitt" than "Steve Buscemi" in terms of looks. (My apologies to Mr. Buscemi, I love your movies!) The cigar had nice oils and a dark toothy appearance. It was neatly rolled and looks hefty with dark ligero centered perfectly at the foot. The binder is a Matafina from Brazil grown by Jose Fuego, father of Jesus Fuego creater of J. Fuego cigars and Defiance cigars. The filler is aged long leaf Cuban seed tobacco from seven different farms in Honduras and the Dominican Republic.
.
Steve Saka, President of Drew Estates and the person whom this cigar was created, said they created ten different basic blends each with it's own four different blends for a total of forty. They tried all of them. It wasn't until they got to #9 that he found a blend that he liked.
.
The Liga Privada No. 9 is a corona gorda measuring 52 ring gauge by 6 inches. This cigar has a nice rich cedary and dark earthy aroma. The retail price is between $9 and $11.
.
I clipped the cap with a Palio cutter and found a perfect draw with slight resistance. The tobacco taste was both sweet and spicy. The cigar lit easily and evenly while the draw produced incredible amounts of creamy full bodied smoke.
.
This cigar wastes no time displaying it's complexity. It starts off with notes of dark chocolate and charred wood. Then creaminess sets in with spicy roasted nut flavors. Then the chocolate turns into espresso and combines with wood to make up the body. Sweetness on the finish was a late bloomer but developed more as the cigar progressed. Notes of cinnamon and flashes of cherry were detected before the one inch point. I was truly impressed with the flavors of this cigar.
.
After the one inch point I started getting leather and an extra dash of pepper which tickled the back of my throat. The cigar stays balanced with creamy roasted nuts and caramel sweetness on the finish. The second third showed a decrease in sweetness while the leathery body got "chewier".
.
The final third is rich and earthy. The pepper is at it's maximum but not excessive. The flavors of smoky leather, nuts, spice and caramel are all in harmony right through the long finish.
.
Overall, I was really wowed by this cigar. It was satisfyingly complex and smoked with true elegance. The burn line was even, the draw was perfect and the smoke was luscious. Even the ash was attractive and matched the cigar's light gray and black cigar band. Speaking of cigar band, the only negative was that it was a little hard to remove.
.
This is a cigar I think everyone should try at least once. It truly is the complete package.
.
.
.