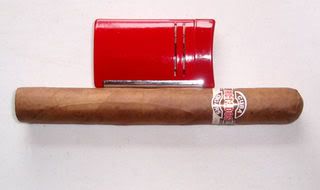 .
This is the third of five cigars given to me by Mr. Frank Santos of Reyes Family Cigars to sample and review. So far I have smoked and reviewed the Cienfuego and the Reyes Family Classic.
.
The Cuba Aliados Anniversary cigar was introduced in 2007 to celebrate the more than 100 years of the Cuban Aliados brand which originated in Cuba. This cigar uses six year aged tobacco and is available in a natural Ecuadorian Sumatra wrapper and a Nicaraguan Corojo maduro wrapper. Both contain an Ecuadorian Sumatra binder and a filler of Nicaraguan and Dominican tobaccos. There are four vitolas available. I happened to smoke the "Magico", which is a toro sized 48 ring gauge by 6 inches. This cigar retails for about $175 for a box of 20 and I've seen the singles priced just over $10 a stick.
.
For such a premium price my expectations were pretty high for this cigar. The appearance of the cigar was pretty average. The wrapper had a dry "paperbag" brown shade to it with a few medium sized veins running vertically along the cigar's length. The cap was neat and I saw no lifting anywhere along the seams. The weight of the cigar seemed pretty light and I anticipated and received no problems with a tight draw. The wrapper feels paper smooth and spongy when lightly pinched.
.
The cigar itself had a very faint earthy aroma which was unimpressive. The pre-light draw flavor after using a punch cut was like gingerbread. After lighting the cigar, the immediate flavors were black coffee with a sprinkling of mild cinnamon and a touch of caramel on the finish. The body was mild to medium as was the flavor intensity. I would classify this cigar as a "late bloomer". The flavors don't really begin to deepen until late into the second third and well into the last third when it gets more leathery and nutty. I would advise against trying to smoke this cigar too fast since this would overheat the tobacco resulting in nasty bitter flavors.
.
The cigar's burn line started off wavy but then corrected itself pretty quickly. The ash formed is nice and compact and holds on well until tapped off. The color of the ash is mostly light gray in color.
.
Overall, I did not feel the cigar justifies it's high price tag. Premium prices demand high quality and complex tastes and I feel that the Cuba Aliados Anniversary fell short of the mark. At best, it is a smooth smoking cigar with consistent average flavor. Like the regular Cuba Aliados which has gone through several re-blendings over the years, this one needs to be taken back to the drawing board.
.
.
.