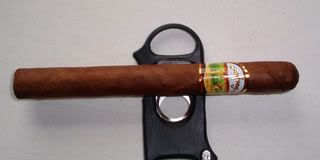 .
First off, I wish to thank Mr. Frank Santos (Marketing Director for Reyes Family Cigars) for sending me a sampler pack consisting of five cigars: Cienfuegos, Puros Indios Viejo, Cuba Aliados, Reyes Family Classic and Reyes Family Premier. I look forward to smoking and reviewing all the cigars.
.
Today, I felt the Cienfuegos Engine No. 7 calling my name so I decided to smoke that first. The Engine No. 6 size recently received a 90 rating from Cigar Aficionado. Puros Indios Cigars introduced the Cienfuegos in 2003. The Spanish name "Cienfuegos" translates to 100 fires. This cigar comes in six sizes all with names with a fire station theme. The Engine No. 7 is a churchill which is a comfortable 48 ring gauge by 7 inches. It's funny, when they first debuted, Cigar Aficionado had an article which described these cigars as "bargain priced". The expected retail cost of Engine No. 7 was $2.80. Flash back to today, this cigar retails for around $10. After smoking this cigar I would say that it is worth more the later than the former price.
.
The Cienfuegos are hand rolled in Danli, Honduras. The wrapper is an Ecuadorian four year aged Habano 2000, the binder is Nicaraguan and the filler is from the Dominican Republic. When I found out that the wrapper is a Habano 2000 leaf, I automatically assumed the worst. I vaguely recall reading that this type of tobacco has burn issues. Let me assure you that once I lit this cigar it burned like a charm. The burn line was sharp and even and did not require any re-lights.
.
Visually the cigar has an attractive hue, reminiscent of red clay. There were dark brown blemishes throughout and some rather gnarly looking veins here and there. Regardless, the cigar had no issues with burning un-evenly. The aroma of the cigar was earthy with some sweet chocolate notes at the foot. The surface of the cigar felt lumpy and the body was nicely packed with some give.
.
The cigar clipped and lit easily and evenly. The initial flavors were very nice. Rich mocha and spice which left a tingle on my lips and tongue. The flavors were smooth and not harsh. The body of the smoke was medium to full. The finish had a nice caramel sweetness along with a touch of pepper. After about an inch in, the cigar showed nice complexity and balance with dark chocolate, cedar and roasted nuts doing a nice transition on my taste buds. The spiciness stays present throughout the entire smoke and so the name "Cienfuegos" seems highly appropriate for this cigar. After about three inches in, the cigar displayed rich leather, roasted nuts and a sweet and spicy finish. This flavor continues to intensify into the final third with a nice "chewiness" that coats the mouth. I put the cigar down with less than two inches left when some bitterness and harshness came out.
.
Overall, I was very impressed with my first taste of a Reyes Family cigar. The cigar showed nice complexity which kept my attention the whole time. I highly recommend this cigar for those who are not familiar with Habano 2000 wrappers. It was incredibly rich, earthy and very spicy. This cigar should put to rest any concerns with burn problems associated with the Habano 2000 name. At least the Reyes Family found an answer to it. Searching on-line this cigar may be hard to find. Serious cigars is the only one I found which has the churchill size in stock. If you can find it at your local retailer, definitely pick one up. You might want to also pick up a bottle of water to douse the 100 small fires that will be set across your taste buds.
.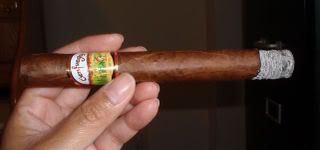 .
.