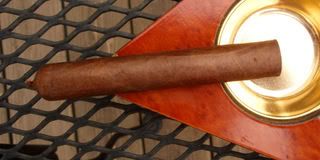 .
Little Havana Reserve (LHR) cigars are sold exclusively
www.cvmcigars.com
. There are five different varieties: Connecticut, Corojo, Maduro, Shaggy (unfinished foot), and the 7 year aged cigar. The 7 year aged cigar is a medium bodied blend made with Dominican tobacco aged for seven years in cedar cabinets. There are three different sizes for the 7 year aged cigar: Churchill (7x54), Robusto (5x50), and Torpedo (6.5x54). I purchased the robusto for $29.95 for five.
.
When I think of a cigar manufactured in Miami's Little Havana, I think of a well made cigar. After all, isn't Tatuaje and cigars made by Don Pepin Garcia made in this area? Certainly the quality standards for rollers are at a higher level in the U.S. versus other parts of the world where working conditions meet less regulation. At least that was my mind set when I ordered these cigars.
.
Construction wise, this cigar represents all that is best about manufacturing in the U.S. of A. I saw no flaws in the way this cigar was rolled. The wrapper was a smooth and gorgeous reddish brown in color with some dark brown mottling interspersed evenly throughout the cigar. The cap was a perfectly aligned three seam cap with a tight pig-tail twist on the end. The feel of the cigar was nice and firm all over. I would grade the construction an A+. The owner of the shop confirmed that the roller of this cigar is one of the best in Miami. I am assuming that he is the only one that rolls this cigar.
.
I had high hopes for this cigar since it looked like a great deal of care went into it's construction. Unfortunately, I can't give similar high marks for the blending of this cigar. I was not able to get a specific answer to my question of, "What type of tobacco was used in this cigar?" All I know is that it is one hundred percent Dominican. The pre-light scent smelled decent enough. I detected some sweet tobacco at the foot. Pre-light draw had subtle tobacco flavor with a hint of spice. The lighting of the cigar was really easy. Toasting took no time at all and getting it fully lit didn't even require me drawing on the cigar. (I wish all cigars was this easy.) The initial flavor was promising. I immediately tasted dark chocolate. Unfortunately, it was very short-lived. It quickly changed to a hickory wood flavor. I waited patiently for the cigar to hopefully develop into something more balanced. It never really did. The flavors were always "in your face" without much subtlety. There was a slight leathery finish that always got overpowered by woody flavors. Oak was really dominate down the stretch. I did get some roasted nut flavor but that was essentially ruined by the prevalence of harsh bitter undertones.
.
I also found it weird that this cigar seemed to generate a lot more saliva in my mouth than normal. I mean, it's not like I was "salivating" over these unharmonious flavors! I felt like a rabid dog smoking this cigar. Luckily, I had a bottle of water nearby to cleanse my mouth.
.
I suspect the quality of the tobacco was not very great. I am no expert but... I did notice that the burn line was really wide. I think a little ant could have rested on it quite easily. The ash was a dirty gray in color and appeared to be compact until about one inch, when it fell like a demolished building into a cloud of soft ash. The remaining ash didn't even cone like I am used to seeing. This may explain why the flavors were so one dimensional.
.
I think the manufacturer spent a lot of time trying to window dress this cigar. I doubt that aging an inferior tobacco is going to improve it's taste in the very least. That's like trying to age a white Zinfandel. While I appreciate the craftmanship of this cigar, I think very little effort went into the blending process. I personally put more emphasis on grading flavor than I do construction. Priced at almost $6 a cigar, you are paying more for labor than anything else.
.
Cigar Rating: Don't even bother