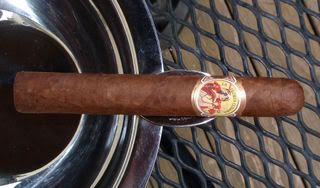 .
The La Gloria Cubana Artesanos de Miami is a new cigar made at the El Credito Factory in Miami. It is a limited production cigar made by only ten rollers, unlike the regular La Gloria Cubana brands which are made in large quanities in the Dominican Republic. In that respect, it is a boutique cigar with expected maxium production levels of around 250,000 cigars this year. This cigar uses a Nicaraguan grown wrapper, Ecuadorian Sumatra seed binder and a filler blend of mostly Nicaraguan and some Dominican tobaccos.
.
There are five sizes available: Elegante (6 7/8 x 49), Campa Chica Torpedo (5 1/2 x 58), Sabrosos (5 1/2 x 52), Artesanitos (5 x 46), and Gran Corona Especial (6 x 54). So far I have smoked two of the Artesanitos. The prices range from $8 for the Artesanitos to as much as $13 for the Gran Corona Especial.
.
The cigar looks good and well constructed. I really like the vintage looking and understated cigar band. The only words on it are "La Gloria Cubana". No "handmade" or "Made in Miami" any where on it. The wrapper is slightly oily and reddish brown in color, along with some dark brown splotches all over. There are a few medium sized veins and I did catch sight of a large piece of stem when I clipped the cap, but nothing affected the burn overall. The draw was free with nice resistance on it.
.
The cigar produces a nice medium body of smoke. The flavor started off woody with some touches of spice. The finish was very clean and almost undetectable. I tasted an unusual "Ivory soap" like taste initially along with faint notes of coffee, but mostly the flavors were woody and toasty. The flavor intensity was really quite mild in my opinion. I almost thought I lost my sense of taste because the finish was so brief and clean. This cigar could easily be handled by a beginner because the flavors are so gentle. It's only until the last third that this cigar builds in intensity, but even then it was no higher than medium. Aged tobacco is the predominate flavor at the end. I think this would make a great morning cigar because of it's mild flavor and overall smoothness and lack of bite.
.
Overall, I personally find the price of $8 to be overkill for this mild corona sized cigar. It did burn evenly with a slight slant and seemed perfectly packed with no big construction flaws. But the flavors were just too subtle and nothing extraordinary, especially when I compare it to other little smokes with more complexity like the Bolivar Petit Corona (Cuba).
.
Brian from Stogie Review did a review of the churchill size and seems to favor the torpedo size which he also tried. Check out his review. Also, check out Stew's review (of the World According to Stew) of the Churchill. He had problems with the draw and burn and his overall impression was thumbs down.