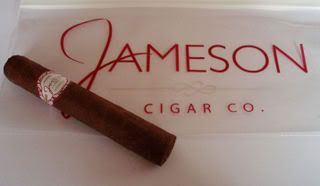 .
Thanks to the
Stogie Review
for the heads up on the two free cigars with t-shirt offer at the
Jameson Cigar website
. I ordered two robustos and two torpedos and got two t-shirts for myself and my husband. The Jameson Cigar Co. is a new cigar company with their cigars being created by Luis Sanchez of Tabacalera Sanchez-Romay in Santiago, Dominican Republic. The blend is a filler of Dominican ligero and seco, surrounded by a Honduran binder, and finished with a dark brown Sumatran wrapper. They come in six different sizes: petit corona (5x44), corona (6x44), robusto (5x50), churchill (7x50), short torpedo (5x54), and torpedo (6.5x54).
.
Generally I tend to gravitate towards cigars with the flavor profile that I most enjoy. That would be flavors like cocoa and coffee. This cigar has none of that and yet I was intrigued nevertheless.
.
The robusto that I obtained was somewhat dry and veiny in appearance with a very sloppy looking cap. Not very impressive. However, the cigar did feel very firm and packed with tobacco. The pre-light draw was free with a nice "pull" to it (the way I like it) and had a taste of dried prunes.
.
When I first lit the cigar, I right away tasted something I've never tasted before, something I would describe as "meaty" and savory. I'll be honest with you and say that it's not something I favor, but it certainly wasn't offensive. The burn line was nice and fine but it did waver drastically in the first third of the cigar. Touching it up with the lighter corrected it easily and from that point on it stayed nice and even. I did have a small flap of wrapper come up in the first third but after burning past that point, I had no issues at all the rest of the way.
.
Lucky for this cigar, it was a much better finisher than starter in all aspects of judging. Flavor wise, it began very mild. The meaty/savoriness progressed to a slightly creamy body with a touch of old leather and toasted wood (not cedar, something I was not able to identify) with a nice underlying warm spice character. The ash produced was light gray in color and very compact. The majority of the cigar was pretty much one-dimensional until the last third when it began to display a nice rich leathery finish.
.
There was a tiny bit of harshness at the half way point where the back of my throat experienced a little irritation but thankfully it was not long lasting. The cigar lacked sweetness, and stayed mostly in the tart and bitter range. If you are looking for a change of pace, this may be the cigar for you. Personally, It's not my cup of tea.
.
The cigar sells for $22.50 for 5 or $102 for 25. I drank an ice cold coke with it. I think a nice bitter ale would have been a better choice. I am curious to see what others think of this cigar. I wasn't wild about it, but hey, it was free and I got a nice t-shirt in the process.
.
Using Cigar Aficianado's rating scale judging appearance, smoking performance, flavor and subjective overall, I would rate this cigar a 73.