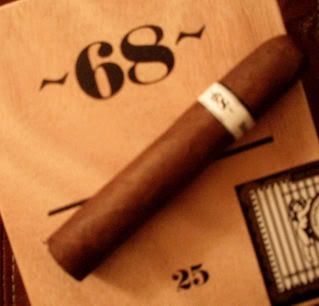 .
The illusione cigars are made in Danli, Honduras from first generation Corojo 99 and Criollo 98 seed. My Illusione 68 cigar came from a box date stamped January 01, 2008. Mr. Giolito says his cigars are built to live a minimum of ten years in the box. As good as these cigars are, I doubt my box will last six months. I bought them at a rate of $5.40 a cigar.
.
I can't think of a better way to celebrate my fourth decade of life this year than to smoke a decadent cigar called "Illusione 68" or "Bombone". I can't speak Italian so I am not sure what "bombone" means but it sure sounds like it could mean what heck of a flavor bomb. The cigar is a petit corona with a ring gauge of 44 and a 4" length. Finally a cigar that looks good in my lady-like hand! It has a pretty dark brown cafe Colorado color and gives off a nice raisiny tobacco odor. The cap is a three seam work of art. There were a few prominent veins running through this little cigar along with several smaller veins but over all it looks like it was put together very well. It felt nice and solid as if packed full of tobacco from head to foot. The pre-light draw was free and clear with no resistance.
.
From the initial lighting I got a nice smoky wood taste with lots of grayish white smoke and a perfect pull on the draw. There was a touch of spice up front but not excessively so. I tasted some creaminess and peat on the back end along with molasses and cocoa. The burn line started off a little un-even but soon started to straighten out on it's own. After the ten minute mark I start tasting roasted nuts with a finish of cedar and leather, all the while maintaining it's sweetness. The flavor is full right from the start. I like that the cigar stays smooth with no sign of harshness.
.
My drink of choice with this cigar is definitely "Jack and Coke". The sweet smoky woodiness matches well with the charred oak sweetness of Jack Daniels. The cigar begins to develop a longer creamy cedar and or leather finish. Very tasty. The ash is compact and dirty gray in color.
.
In the second third of the cigar, I get more caramel to molasses flavor, leather, with creaminess, coffee and nuts to round out the finish. These seem to be the predominate flavors and stays consistent throughout the cigar. I like that the cigar is not too spicy. In fact, I barely detected it in this cigar. I tried not to rush the smoke so as to not develop any harshness. Overall, it probably took me about an hour to finish this little beauty.
.
In the final third, I actually resorted to using the "toothpick" method I've heard so much about in other reviews. I've seen
Walt of the Stogie Review
use this technique and so far this is the only cigar that I've smoked so far in my short habit that I felt deserved it. I am so glad my husband was still at work because I'm sure he would look at me doing this and think I've lost my cotton-pickin mind! What can I say? I've graduated to the next level of cigar aficionado.
.
Anyways, the final third of the cigar maintained the same flavor profile I mentioned before with a nice long finish. The flavors were balanced and very smooth. I think I've found my new favorite cigar!
.
Final score: 94 because while I loved the flavors and look of this cigar, I wouldn't say it had a lot of complexity.