.
Hoyo de Monterrey Hoyo de Tradicion is quite a long brand name but one that is suitable for a name that has been around since 1860. It's funny how some websites relate the history of a brand back to Cuba and continue it on to the non-Cuban brand manufacturer as if it is all the same. My co-worker is a cigar smoker and he believes that certain brands are better based on the reputation of it's Cuban history even though the cigars he smokes are not made there. If the Cuban embargo ever gets dropped and he actually tries a real Cuban cigar, he's in for a big surprise. Not that great cigars can't be made elsewhere...
.
The Hoyo de Tradicion is an example of a well made non-Cuban cigar. Made in Cofradia, Honduras it has rich tobacco from four different countries. The beautiful dark reddish brown wrapper is a Jamastran Viso Rosado from Honduras. It's gorgeous and smooth with nary a vein in sight. The binder is USA Connecticut and the filler consists of Dominican Piloto Cubano leaves, Honduran San Agustin leaves, and interestingly enough, leaves from Ometepe, which is a remote island in Nicaragua. Ometepe was formed by two volcanos rising up from Lake Nicaragua and the soil is very rich there because of this.
Ometepe's two volcano mountains
.
The Hoyo de Tradicion was introduced last fall and is offered in four different vitolas. I wanted to try the highly rated Epicure which is a robusto sized 50 ring gauge by 5 and 1/4 inches long. It costs about $4.50 for a single cigar or $112.50 for a box of 25. Hoyo de Monterrey is a General Cigar Co. product and you can refer to their website for more information. This cigar was also reviewed in Cigar Jack's blog back in February of this year.
.
The only thing wrong visually with this cigar is the top part of the cap is sloppy. Otherwise, it's really a beautiful boxed pressed cigar with an attractive red and white band with a gold foil coat of arms and detailing. The cigar feels padded but nicely packed. The aroma of the cigar is like rich compost, with a nice sweetness at the foot. It's funny, but my experiences with rosado wrappers is that I should expect some tannic dryness when I smoke this cigar.
.
Clipping the cigar was easy with my double bladed guillotine and the top cap comes off easily along with a crumbling of the rest. There is a nice rich taste of tobacco on the pre-light draw. The cigar lights easily and as I expected, there is a tannic character to the cigar like a cabernet sauvignon. It does dry out my mouth and make me want to take a sip of water. But if you can just get past that, you'll notice the nice rich tobacco flavor of this cigar. It is earthy and I'm noticing some rich coffee flavors right away. The body is medium to full. I taste an initial flavor of nuts which is really nice, followed by coffee on the finish. In between draws you're left with a rich tobacco taste in your mouth. I also pick up a slight hint of pepper in the first third. Strangely enough, I do taste some red wine flavors as well.
.
The ash is starting to develop into something unbecoming of an attractive looking cigar. The color is really dirty like something the high school janitor would pick up in his dust pan. Plus, it looks soft even though the shape is compact. The last time I smoked this cigar, the ash just fell off and disintegrated before the one inch mark. So I know not to trust it and ash it before it gets anywhere close to that mark. The burn line gets a little craggy and requires occasional touch ups. The burn line itself is fairly thin.
.
I'm really enjoying the nice up front nuttiness of this cigar followed by a syrupy coffee flavor on the finish. There is also a hint of pepper which hits you on the back of the throat. I would recommend having plenty of water handy to deal with that plus it's tannic nature. There is also a nice leathery taste to the cigar which gets chewier further down the cigar. In fact, the best part of this cigar is just about in the last third. While some bitterness does start to develop, the flavors of leather, coffee, nuts and tobacco are really at their fullest.
.
The cigar does stay nice and cool until the end. I just wish the ash wasn't so ugly and the peppery harshness is a little irritating, at least to me. With that being said, (as Walt on the Stogie Review likes to say ;-)) I would smoke this cigar again but I probably wouldn't buy a whole box. I do think it's interesting that it has tobacco from Ometepe though. It looks like an interesting place to explore. If you happen to vacation in Nicaragua and spot a women taking pictures while smoking away on a stogie, don't be surprised if it's me.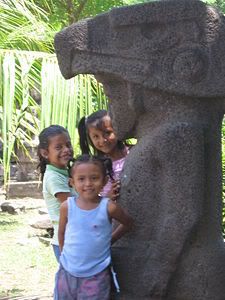 Children in Ometepe (courtesy of Wikipedia)
Ometepe bird (courtesy of virtualtourist.com)
Waterfall in Ometepe (courtesy of Nicatour.net)