.
This morning I had the pleasure of smoking one of the best maduros I've ever tasted. The CAO L'Anniversaire Maduro rothschild is a convenient 50 ring gauge by 4 and 1/2 inches long. The cigar isn't much to look at with it's blotchy appearance and a wrapper seemingly cut too short, but it certainly tastes far better than it looks. The CAO website states that the cigar is wrapped with a rare vintage harvest Connecticut broadleaf wrapper, Ecuadorian binder and a filler consisting of Dominican and Nicaraguan tobaccos. They also say that this cigar is highly sought after for it's rare and luxurious taste. I can't help but agree with them on the taste.
.
The flavor is fantastic right out of the gate with hot cinnamon spice, roasted nuts, powdered mocha and caramel sweetness on the finish. The taste is smooth with no bitterness or harshness detected. The second third comes along quickly in this short cigar with more of the same great flavors of coffee, nuts, cinnamon with a sweet and peppery finish. The final third shows sweet roasted nuts that transitions into leather. I had to break out the toothpick to smoke this cigar right down to it's delicious nub.
.
The construction of this cigar is outstanding. The burn line was sharp and even. The ash was strong and compact and very attractive with the vein lines burning dark against a light gray background. I have a few pictures of standing the cigar up on it's ash and how it held up to almost three inches long.
.
Overall, I would definitely place this cigar high up on my list of favorite smokes. It ranges in price from $5 to $7 depending on where you buy it. I plan on buying a box of the rothschilds which is a great short smoke that packs loads of flavor with each draw. I guarantee you will not waste one inch of this cigar as long as you have some toothpicks handy. By the way, the rothschild size is the only size in this line that is not box pressed. Which may explain why the burn was so even throughout. I highly recommend this cigar for all levels of cigar smokers. It has delicious earthy flavors and just the right amount of sweetness and spice to keep you wanting more.
.
.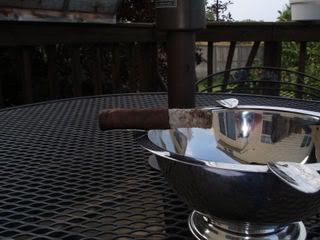 .