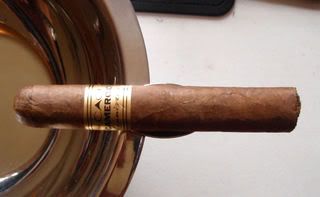 .
I hope everyone had a nice 4th of July, ours was rainy but we still enjoyed it nevertheless. While I should review the CAO America which I have in my humidor in honor of Independence Day, I decided instead to review the CAO L'Anniversaire Cameroon robusto since as an American, I reserve the right to exert my own independence. The anniversary line was created to celebrate CAO's thirty years in the cigar business from 1968 to 1998. The Cameroon version was introduced in 1999. This cigar is made in Esteli, Nicaragua using a Grade One African Cameroon wrapper along with a Nicaraguan filler and binder.
.
The robustos I smoked had a severe box-press shape similar to Padron anniversaries. The size is 5 inches by 50 ring gauge and retail for about $115.99 for a box of 20. I found them for just over $3 a stick on Cigarbid. The aroma of these cigars is just to die for. I seriously smelled chocolate fudge frosting on the wrapper and even on the pre-light draw. Thank goodness I wasn't blindfolded, otherwise I would've taken a bite out of this cigar for sure. The wrapper had the usually characteristics of an African Cameroon, light brown with a slight greenish tint, along with dark brown mottling. It feels coarse to the touch and has visible tooth. CAO did a wonderful job in rolling this cigar. The cap is nicely formed and the wrapper had no visible imperfections. When I squeezed the cigar it felt "pillow" soft.
.
Once lighting the cigar, I tasted the usual charred wood which then transitioned into a nice dark chocolate flavor. Eventually some creaminess develops along with hints of cinnamon. The finish shows touches of sweetness which is really nice. The burn line was sharp and relatively even. No touch ups were necessary. The cigar picks up a spicier profile in the second half as well as a leathery and vanilla spice base flavor. I had some ice water on hand to quell the heat to the back of my throat. The cigar also shows some nuttiness to go along with the aged leather flavor. These same characteristics continue on into the last third of the cigar but eventually the leather takes on a slight bitter note. The resting smoke is pungent and sharp enough to split your nose hairs. I probably wouldn't smoke it around those easily offended by smoke because this cigar generates volumes of light gray smoke with each draw.
.
Overall, I found this to be a nice medium bodied cigar with medium to full flavors. I would probably let it rest in my humidor for as long as possible to try to take the edge off it's heat but even if I didn't, it still isn't in the range of a Pepin scotch bonnet scorcher. It's not a beginners smoke so I wouldn't recommend it to a newbie. For everyone else, I would recommend this cigar, especially if you can find it at bargain prices on an auction site. Don't hesitate to pick some up because they are definitely worth it.