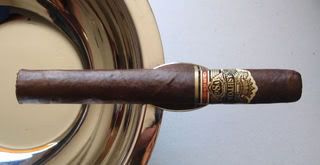 .
Hey! Why doesn't my vitola have a mystical name like "Illusion", "Wizard" or "Sorcerer"? Maybe the makers of Ashton VSG will consider the names "Warlock", "Voodoo" or "Magician" for the 5 and 3/4 inch by 46 Corona Gorda. Fortunately for us they did not skimp on the blending of this cigar. This Carlos Fuente Jr. creation uses the finest Dominican tobacco which was aged 4 to 5 years with extra ligero leaf added for maximum flavor. The show-stopping wrapper is an exclusive sun-grown Ecuadorian tobacco leaf grown by the Oliva family for Ashton VSG. The
Ashton website
states, "the leaf is taken from the higher primings and matures slowly by sunlight filtered through the region's natural cloud covering". All I know is, this cigar makes me want to dress up in a sexy black dress with long black stilleto pumps.
.
The cigar itself looks very flavorful. The oily dark brown mottled wrapper has a very aromatic earthy aroma along with some white pepper detected at the foot. The wrapper feels smooth and looks well constructed with a nicely formed layered cap. This chunky corona has a spongy feel which makes me certain I'll be getting a nice clear draw. The cigar, which I bought as singles out of the box, did not come encased in cello. It retailed for about $9.95 at my local B&M and was recommended to me by the shop owner as a corona to try. I was somewhat familiar with this highly rated and rare cigar that I had no problems accepting his choice.
.
The cigar lives up to it's reputation immediately when you light it up. The aroma is wonderfully fragrant with sweet and spicy plumes of thick smoke that swirl around magically in the air. The initial flavors start off woody then earthy and you taste nice dark chocolate with warm spices across your palate. This cigar has elegant complex flavors which meld together unlike lesser smokes with their easy to pinpoint oil and vinegar separation of flavors. This cigar needs to be enjoyed with time and patience so you can appreciate it's nuances. You can swear you get a touch of cedar, a touch of cloves, and a touch of cinnamon followed by pure vanilla extract mixed in with it's strong leathery body. It's the same rich leather you find at the end of some cigars when they are trying to build to an impressive cresendo. The VSG gives you that rich chewy leather early on, letting you know this is not an average smoke. The finish is bittersweet chocolate with a touch of red wine dryness. That extra ligero thrown in does show itself as a little pepper tickle to the back of your throat. It's not overwhelming and it doesn't interfere with any of the other flavors.
.
I would not call this a beginner cigar, although anybody can appreciate it's full body and full flavor. The cigar burns fairly well with maybe a few occasional touch-ups for those as anal as I am when it comes to wanting an even burn. The ash is compact and dirty gray. I would definitely smoke these cigars again and even purchase a whole box if I can find them for a decent price. I can hear you laughing, but I've seen big price gaps among retailers for hard to find cigars.
.
The Ashton VSG is a must have for the cigar connoisseur. It's the type of cigar you would want to smoke after an elegant night out on the town along with a fine red wine or a nice aged liqueur, whether it be scotch, whiskey or rum. I highly recommend it and with my birthday around the corner, I hope my family and friends are reading this because it would make an excellent gift. Hello?
(so elegant and refined, I had to break out the red nail polish...)