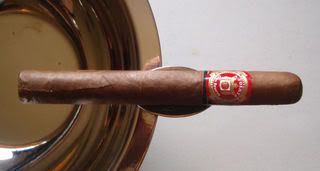 .
The Don Carlos line was named for it's creator, Don Carlos Fuente Sr.. It is made in Santiago, Dominican Republic with rare, hand-selected vintage tobacco aged up to ten years. The wrapper is Cameroon, the binder- Dominican, and the filler is all Dominican. The No. 3 is a corona with a 44 ring gauge by 5 and 1/2 inches long. They sell for about $7.75 a single.
.
The oily wrapper is medium brown in color with some dark brown mottling throughout. The wrapper does look veiny and you may find a few tiny water spots here and there. The cigar's appearance leads you to believe that it was rolled expertly. The cap and the wrapper has nice tight seams. However, upon further scrutiny, I did notice some unacceptable sloppiness for a pricey cigar. There were some glue remnants visible and some of the cigars were packed pretty tightly. The draw on my review cigar was just too firm to be enjoyable.
.
The flavor of this cigar started off with a woody tang. It then developed into a nice dark mocha flavor which had a tart acidity to it. Gradually some vanilla spice crept in but the cigar still tasted sharp with not much sweetness detected on my taste buds. The middle of the cigar showed some beginning signs of leather, and some roasted nut. There really was no peppery heat, just some mild spices in the background. The leather flavor continued to be amplified into a nice richness. But extreme care has to be taken to avoid overheating the cigar. Coronas can be tricky due to their tendencies to burn hot. That nice rich leather can easily tip over into burnt bitter coffee syrup if you aren't careful.
.
The strength of the cigar is medium to barely full. The finish is long and reminiscent of dark tea. The burn was adequate with a mostly even, sharp burn line and the resulting ash was a pretty light gray with pepper flecks which held on strongly until tapped off. The body of the smoke was medium and the resting smoke was quite profuse and smelled sharp and pungent.
.
So far I have smoked five Don Carlos No. 3's and I enjoyed all but one of them. The last cigar (the one for this review) seemed to be burning hot and had sharper and bitter flavors than the previous cigars. In fact, I had one this morning that did not taste bitter at all, and I was really looking forward to writing a great review of this cigar. Unfortunately, the last cigar and most mememorable had to be the worst of the bunch. But, for $7.75 a corona, you should expect better quality control and consistency. I was really disappointed in the last cigar. I would be interested in trying a larger size Don Carlos to see if it has a better taste profile. The corona was not all that impressive and I could find a better value elsewhere. But I don't want to give up on the line just yet. Whenever it's a reputable cigar maker like the Fuentes, I always want to make sure it's not me mis-judging the cigar. But taste is very personal and subjective, and when all is said and done, I still have to like it to buy it.